Lopers.Net utilizes the FTP protocol to publish files to the web server. There are several different FTP clients you may use to publish your files to Lopers.Net, and they will all vary on exact instructions.
For this guide, I will be using FileZilla because it is available for PC and MAC, and it is also free of charge. You can download it here:
Download FileZilla Here
After you have FileZilla installed and you open it for the first time, it will ask for server details so it can connect.
If it does not, click the site manager button shown below: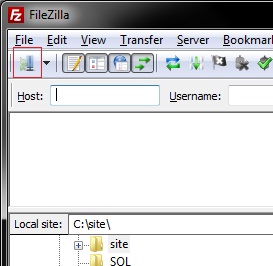 You will need to set/verify the Host, Port, Protocol, Encryption, Logon Type, Username, and Password.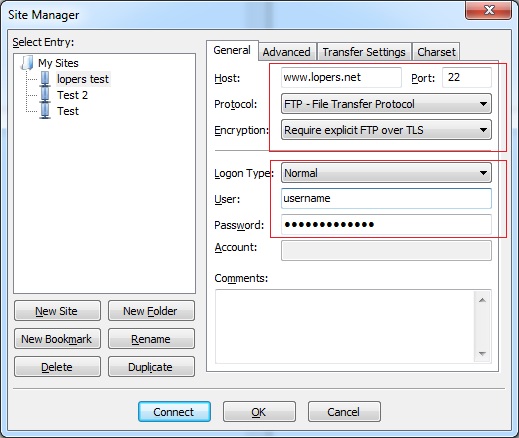 Host: www.lopers.net
Port: 22 for Students, 21 for Staff/Faculty
Protocol: FTP - File Transfer Protocol
Encryption: Require explicit FTP over TLS
Logon Type: Normal
Username: EASI Username
Password: EASI Password


Next, open the "Edit" pulldown menu and select "Settings". Under "Connection", choose "FTP". You'll need to switch to "Active" mode as pictured below.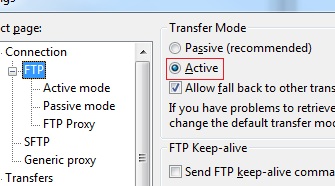 Once this is complete, you can hit the "Connect" button. If everything is successful, the status window should say "Directory listing successful."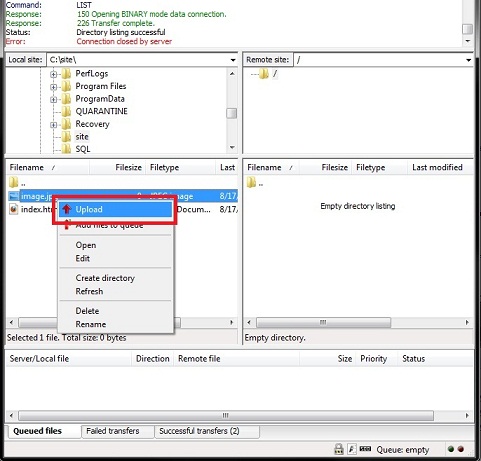 The window on the left is a way to navigate your files locally on your PC or Mac. The window on the right shows you the files you currently have published on your webspace. Simply navigate to the folder where your files are located on the left, right click the file you want to transfer, and select "Upload". The file will then transfer to the server where it will be listed on the right. Alternatively, you can simply drag and drop files to the right window to transfer files.

After you are done publishing your files, your files will be instantly visible by going to the web address listed below:




Staff/Faculty - http://www.lopers.net/faculty/unknet/EASIUsername/

Students - http://www.lopers.net/students/lopers/EASIUsername/





You will need to replace "EASIUsername" with your EASI username.

For example, if I was a student named Louie Loper("loperl" for my EASI Username) and I uploaded a file named image.jpg, I could access it by typing the below into my web browser:


http://www.lopers.net/students/lopers/loperl/image.jpg



After you have confirmed your files have been published, you are ready to go!